AeroRemote Insights
AeroRemote Insights
Only Konica Minolta provides digital radiography productivity dashboards to enable users to get more out of their AeroDR assets. AeroRemote Insights automatically collects and aggregates Konica Minolta X-ray system health and usage data into simple analytical views. A quick glance gives you the insight you need to make smarter decisions to improve departmental efficiencies and patient experience.
CS-7 and Ultra-based control platforms both support AeroRemote Insights, providing valuable analytic views for most Konica Minolta DR retrofit and integrated X-ray system solutions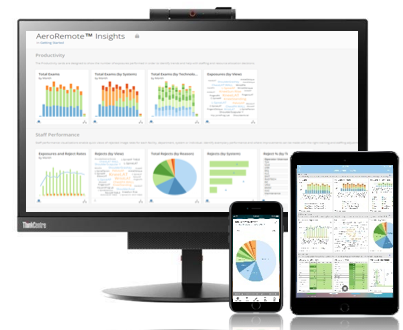 AeroRemote Insights builds on the best service response program in the industry with a brand new productivity dashboard - providing system and technologist usage visualizations - that deliver a whole new level of value.
The system collects and aggregates valuable data daily such as exam volume, rejected image reasons, and exposure levels for exams. This data is automatically integrated into easy to interpret visualizations that are useful for productivity assessment, identification of training opportunities, and asset management.
Capitalizing on the electronic drop sensors of AeroDR[1], AeroRemote detects and transmits incidents of minor and major drops. Instant email alerts communicate major drops that could be damaging to the panel and the CS-7 prompts users to perform a quick diagnostic check. The email notifications inform managers and the Konica Minolta call center about the failure so that they may begin preparing for the appropriate response.